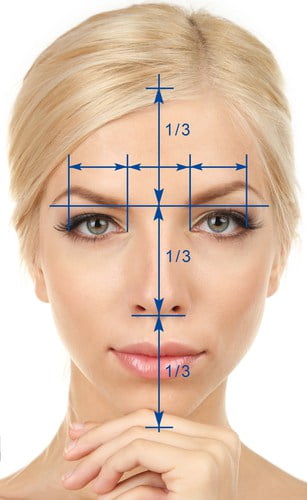 Aesthetic Facial Analysis is the concept upon facial assessment for cosmetic and reconstructive surgery of the face is based.
Balanced or harmonious facial proportions are consistent features in an aesthetically pleasing facial form. The analysis is systematic and the facial evaluation should include different view angles.
At the beginning, overall facial features are observed. The relationship amongst different facial regions is considered before they are analysed separately. Each region will have anatomic units and subunits that require careful consideration. For instance, the nasal subunits that are very important in cosmetic rhinoplasty.
Looking at proportion, contour, symmetry, ageing and other features is relatively straight forward. However, perception of beauty can be quite subjective and differs amongst people.
To add an extra dimension, the face can be analysed over time. It is very helpful to have an old photograph and observe how the face aged and what features have changed most. In addition, each ethnicity has its own characteristic features that given them identity and authenticity.
The assessment should also take into consideration each person's perception of beauty and their desires. It is important to establish the patient's surgical goals and expectations, and reconciliation of the patient's expectations.
Facial Surgery and Rejuvenation
About Dr Rodrigo Teixeira
Dr Rodrigo Teixeira, MD, FRACS is a Plastic Surgeon in Melbourne, highly experienced in Cosmetic Surgery, Rhinoplasty and Facial Surgery. Dr Teixeira is a fellow of the Royal Australasian College of Surgeons (RACS), member of the Australian Society of Plastic Surgeons (ASPS) and Australasian Society of Aesthetic Plastic Surgeons (ASAPS). Internationally, he is a member of the American and the International Societies.